Januari 24, 2023
Elephant ecotourism stomps illegal logging – Environment – The Jakarta Post
Please Update your browser
Your browser is out of date, and may not be compatible with our website. A list of the most popular web browsers can be found below.
Just click on the icons to get to the download page.
Or continue login with
Sandwiched between Mount Leuser National Park in North Sumatra and the oil palm estates of state-owned plantation company PT Perkebunan Nusantara II, Tangkahan was, from around the 1990s to the early 2000s, a haven for illegal loggers from Namo Sialang village, the neighboring Sei Serdang village and elsewhere.
They used Tangkahan as a transit point where they sent timber (mostly ironwood) they took from inside the jungle of Mount Leuser National Park to Tanjung Pura.
"If these outsiders could take timber from the national park right in front of us, why couldn't we?" said local community leader Rutkita Sembiring, himself a former illegal logger from 1996 to 2000.
"At that time, about 90 percent of men in all the villages across the Batang Serangan district in Mt. Leuser's buffer zones engaged in illegal logging," said another ex-illegal logger, Karya Depari.
Things changed when in 1999 two student activists and environmentalists, Syukur Al-Fajar and the late Syaiful Bahri, who were later joined by another student activist, Taufik Ramadhan, visited Tangkahan.
Fascinated by Tangkahan's natural beauty but alarmed by the rapid pace of its destruction, they provided the illegal loggers with environmental education and convinced them that "they could still earn money without having to fell a single tree through ecotourism".
"They told us our lives would be miserable if the forests were destroyed," said ex-illegal logger Seh Ukur Depari.
Rutkita said their admonition came at a time when a number of loggers had been injured, disabled and even killed when cutting trees, which "got us thinking, 'What's the point of making lots of money if the risk is that high?'". Moreover, they were under constant threat of getting arrested and imprisoned by authorities.
So they established, together with Rutkita, Seh Ukur and other repentant ex-illegal loggers of Namo Sialang and Sei Serdang villages, the Tangkahan Tourism Foundation (LLP) in 2002, now known as CV Community Tour Operator (CTO).
CTO is a local community business partnership that manages Tangkahan ecotourism based on a 2002 memorandum of understanding (MoU) with Awriya Ibrahim, head of the Mount Leuser National Park Service.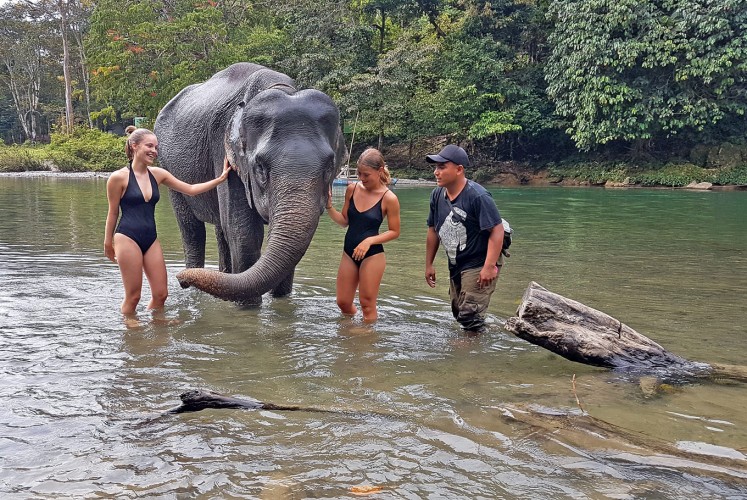 Play time: Two Swedish tourists play with an elephant.Play time: Two Swedish tourists play with an elephant. (JP/Arif Suryobuwono)
"Awriya granted us the right to use 17,500 hectares of the park for ecotourist purposes after seeing how we, ex-illegal loggers, mounted a staunch resistance against illegal logging," Seh Ukur said, quoting Awriya as saying that "by signing this MoU, I risk my job but I believe you". A week after signing the MoU, Awriya was transferred to Ujung Kulon National Park.
"In the late 1990s, the income we earned from selling timber ranged between Rp 2 million [US$142.85] and Rp 30 million a week," recalled Rutkita, who himself earned around Rp 2 million a week.
However, the big money came with many accidents, injuries and even fatalities. Rutkita's father broke his arm while cutting down a tree. Seh Ukur's father died after being struck by falling log.
Moreover, "money comes in and goes away very fast," recalled former illegal logger Juan Kartika Sitepu, who said he, like the rest of his fellow loggers, spent his sudden "wealth" on drinking, gambling and womanizing.
"We are actually afraid of cutting down trees because there are ancestral spirits indwelling them that cause misfortune and even death to those felling the big trees where they reside," said ex-illegal logger Imanta Sembiring.
Such belief, according to Iskandaruddin, head of the Tangkahan site management unit responsible for the area, was part of pemena, an ancient animistic belief of the local Karo Batak tribe, which, according to Rutkita, was rendered irrelevant by their conversion to either Christianity or Islam and eclipsed by their obsession with becoming rich through illegal logging.
This drove Karya, initially a smallholder rubber farmer who earned around Rp 500,000 every two weeks from selling latex he collected from rubber trees grown on his land, to try his luck.
Deciding to have his own logging business, he borrowed a lot of money from the tauke (buyer-cum-financier) to whom he sold his timber in order to buy a used chainsaw and start logging on his own.
However, a surprise joint anti-illegal logging operation involving the local police, the military and park authorities thwarted his plan. He escaped arrest but all of the unsold timber he left in the forest was
confiscated.
"I had already incurred so many debts at that time that I had to sell the land where I grew rubber trees to pay them off. Now I can't recall where the money went. That's devil's money that got eaten by ghosts, as the saying goes," said Karya, who now grows maize in his neighbor's oil palm plots to supplement his monthly income from selling oil palm fronds to feed Tangkahan elephants for ecotourism.
The "ghost" that ate most of the money, according to Syukur, was bribery. In order to steal timber from the national park without getting caught, they had to bribe many. "In the end, they only got 50 percent of the proceeds. This made them very unhappy but they had no choice," Syukur said.
Responding to what Syukur said, Karya said it was his tauke's accomplices, not he, who handed out the bribes.
Syukur said Syaiful and he later adopted a two-pronged strategy to change the situation.
Syaiful inculcated in Tangkahan youths the importance of environmental awareness and mobilized them to convince their illegal logging fathers that their way of doing things was not sustainable. "Unlike their fathers to whom money is what matters most, these young people have a different spirit," recalled Syukur. They organized these young people into a team called the Tangkahan Simalem Rangers.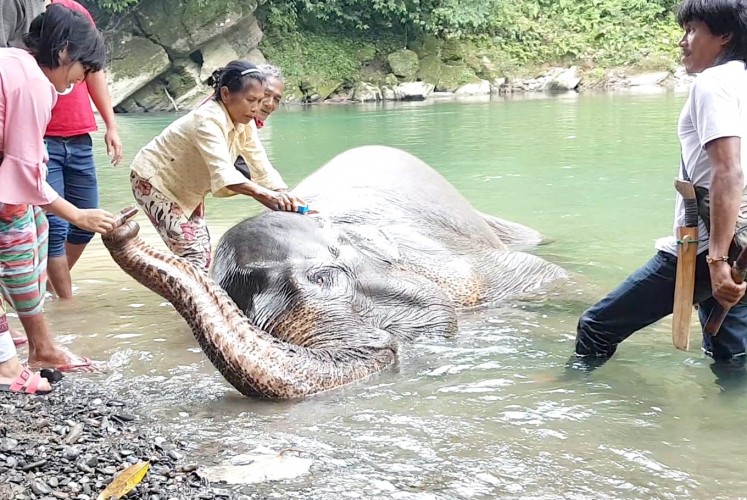 Me time: A lady scrubs an elephant while another feeds it sugar cane. (JP/Arif Suryobuwono)
Meanwhile, Syukur approached the Indonesian Ecotourism Network to help introduce ecotourism into the area. Despite facing resistance, he kept on persuading illegal loggers to abandon logging in favor of ecotourism.
"We want the local community to take full ownership and control of the business of ecotourism in Tangkahan. We don't want them to work for outsiders who control the business as is the case with the orangutan sanctuary in Bukit Lawang," said Syukur.
Their effort paid off. Logging was completely stopped in 2003 and elephant-centered ecotourism was introduced in 2004, attracting a flurry of tourists far beyond their expectations and original intention of using elephants to patrol the forests to scare off illegal loggers.
"Most of the tourists are foreigners because we very, very rarely promoted Tangkahan domestically. Thus far, we have received foreign tourists from 57 countries, with most coming from Holland," Rutkita said. "In recent years, however, the number is declining."
He attributed recessions, animal welfare campaigns in the West against the use of elephants for domesticated purposes and bad road conditions caused by a busy sand mining operation nearby — which would not have been there had it not been for a permit from the local government — as factors that contributed to the decline in the number of visitors.
Under a revenue-sharing scheme currently in place, Rutkita said 57 percent of revenues went to CTO. The remaining 43 percent is used to pay local guides, visitor center and search and rescue (SAR) staffers, English teachers and janitorial and garbage workers. "Since 2015, CTO's average annual revenue has averaged at Rp 12 billion and is increasing, which is much higher than the income we earned from illegal logging," said Rutkita.
These days, Rutkita said, the number of local visitors had been increasing, averaging at 60,000 a year. However, the trash they leave behind has presented a problem of its own. "The amount we spend on cleaning the garbage is more than the revenues we obtain," he said.
TJP Documentaries: Tamiya Racing Fever Still Alive in Indonesia
TJP Documentaries: Citayam Fashion Week Sees Youth Reclaim Jakarta's Public Space
TJP Documentaries: Why Indonesian E-sports Athletes Are Today's Money-making Superstars
© 2016 – 2023 PT. Bina Media Tenggara